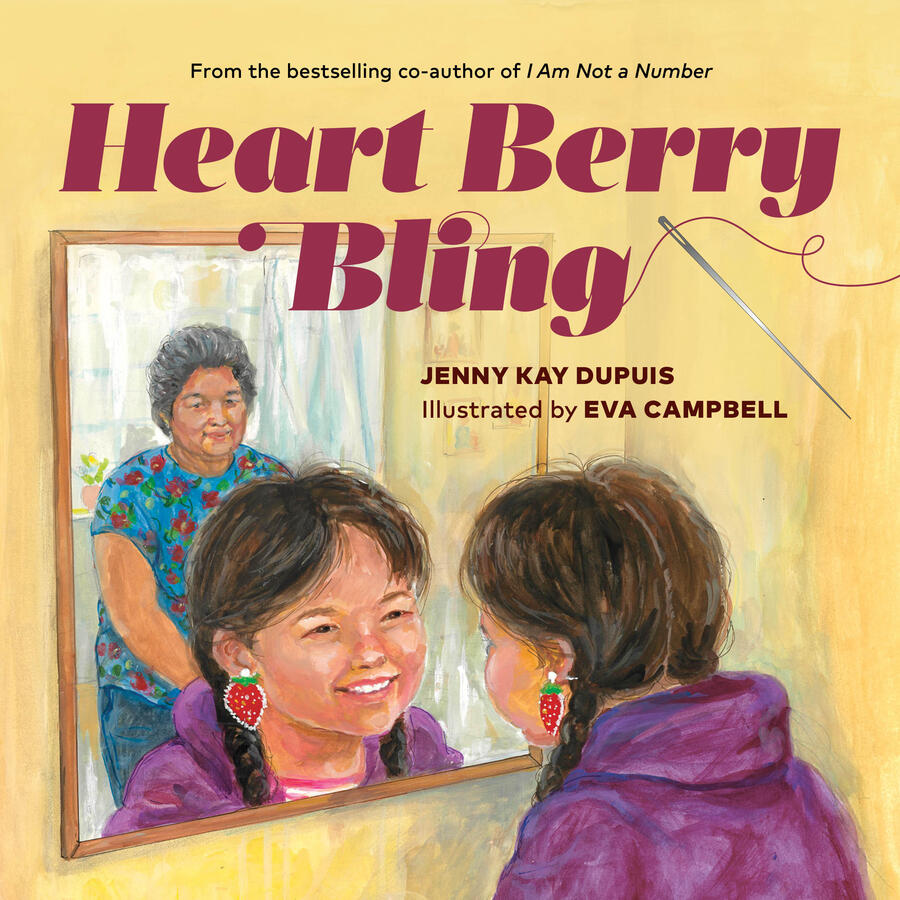 HEART BERRY BLING (2023)
On a visit to her granny, Maggie is excited to begin her first-ever beading project: a pair of strawberry earrings. However, beading is much harder than she expected! As they work side by side, Granny shares how beading helped her persevere and stay connected to her Anishinaabe culture when she lost her Indian status, forcing her out of her home community—all because she married someone without status, something the men of her community could do freely.
As she learns about patience and perseverance from her granny's teachings, Maggie discovers that beading is a journey, and like every journey, it's easier with a loved one at her side.
In this beautifully illustrated book, children learn about the tradition of Anishinaabe beadwork, strawberry teachings, and gender discrimination in the Indian Act.
ORDER YOUR COPY
Books can be ordered from your favourite bookseller or online from Amazon.ca, Amazon.com, and Indigo.
Heart Berry Bling is a soulful children's story that reminds readers of not only the importance of family and culture, but also the generational harm caused by laws against Indigenous Peoples. In this tale of a young Anishinaabe girl who finds out how her own family was negatively impacted by the Indian Act, Jenny Kay Dupuis has created an important text for anyone learning of the erased ancestral stories from and about Indigenous Peoples.

– John P. Broome, Purdue University
A delightful story.

– Anishnabek News
This title stimulates the senses as the reader experiences impressions of colour, sound, touch, scent and taste through the keenly observed descriptive text and the accompanying illustrations. Text and illustrations meld together perfectly. It is a deceptively simple story of love that also draws attention to injustices of which most non-indigenous people are unaware. A great addition to all collections. Highly Recommended

– CM Magazine
A beautifully written and illustrated story that seamlessly weaves connection to family, history, culture, and joy. Heart Berry Bling is a gorgeous and important contribution to literature for all children and families.

– Monique Gray Smith mistikwashkihkos, Braiding Sweetgrass for Young Adults
Heart Berry Bling seamlessly threads together history with cultural teachings and practices, like the beads Granny and Maggie patiently stitch to share their story. The story's calm beauty is perfectly matched with soft, warm illustrations. This is a wonderful and impressive follow-up to I Am Not a Number.

– David A. Robertson, Governor General's Award-winner
We need books from writers like Jenny Kay Dupuis–people whose families hold … brutal realities in their memory as something they lived through–and people across North America have so much learning to do about Native life and history, and about authenticity of storyteller and storytelling. Quite magnificent….Highly recommended.

– Debbie Reese, American Indians in Children's Literature (AICL)
Heart Berry Bling teaches Indigenous realities and culture while warming the human heart.

– Kelly Anne Smith, Anishinabek News
Touches on the emotional aspects of beading as well as a few technical skills! All this weaved into a visit between a girl and her grandmother, with a sprinkling of Canadian history, women's rights, and the importance of perseverance. Great for a read aloud for older students to introduce some of the unfair treatments [of] Indigenous Peoples in North America.

– Mary Hazel, Classroom Content Curator, Follett Learning
Social justice messages lie at the heart of many children's and YA books with Indigenous authorship. The picture book Heart Berry Bling (HighWater, May), written by Jenny Kay Dupuis, a member of the Nipissing First Nation, and illustrated by Ghana-born artist Eva Campbell, shares the tradition of Anishinaabe beadwork and highlights the experiences of women, including the author's grandmother, who lost their First Nations status due to Canada's Indian Act.

– Publishers Weekly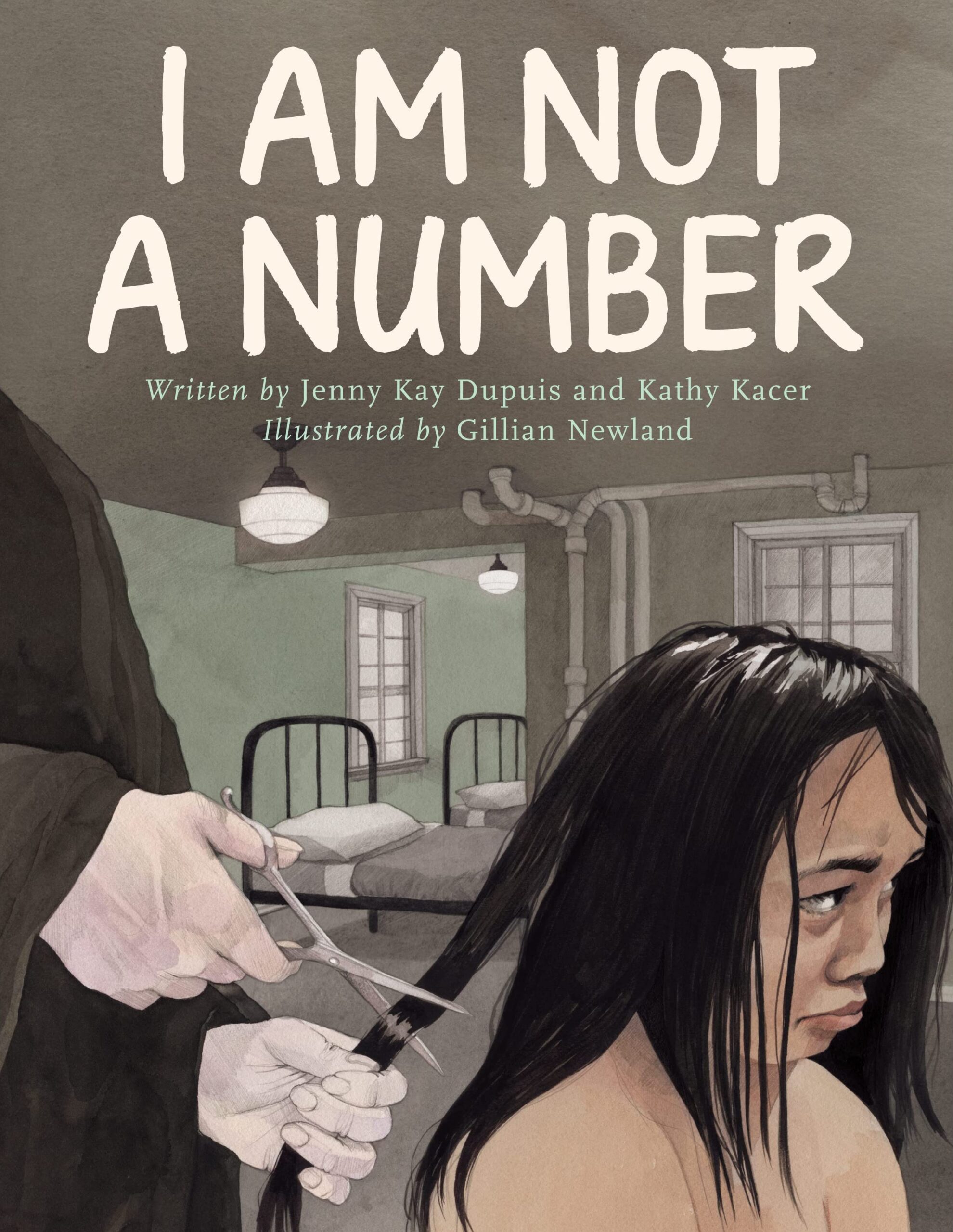 I AM NOT A NUMBER
Best-Selling Non-Fiction Children's Picture Book
When eight-year-old Irene is removed from her First Nation's family to live in a residential school she is confused, frightened, and terribly homesick. She tries to remember who she is and where she came from despite the efforts of the nuns to force her to do otherwise. When she goes home for summer holidays, her parents decide never to send her away again, but where will she hide and what will happen when her parents disobey the law? (Available in English, French, and dual language in Nishnaabemwin (Ojibway) Nbisiing dialect and English).
ORDER YOUR COPY
Books can be ordered from your favourite bookseller or online from Amazon.ca, Amazon.com, and Indigo.
The dual-language edition available in Nishnaabemwin (Ojibway) and English can be ordered from your favourite bookstore and online from Second Story Press and Indigo.
AWARDS FOR I AM NOT A NUMBER
2018 Red Cedar Award for Information Book Winner – British Columbia's Young Readers' Choice Award

2018 Hackmatack Award Winner – Atlantic Children's Choice Book Award

2017 Diamond Willow Award Winner – Saskatchewan Young Readers' Choice Award (SYRCA)

2016 Selection American Indians in Children's Literature Best Books of the Year

2018 Silver Birch Express Award Finalist – Ontario Library Association's Forest of Reading

2018 Rocky Mountain Book Award Finalist – Alberta's Children's Choice Book Award

2017 Marilyn Baillie Picture Book Award Finalist – TD Canadian Children's Book Awards

2017 Information Book Award Finalist – Children's Literature Roundtables of Canada

2017 Selection Bank Street College of Education's Best Children's Books of the Year

2016 Selection The Ontario Library Association's Best Bets – Junior Nonfiction

Selected by the Association for Library Service to Children (ALSC) 2017 Notable Children's Books – Middle Readers

Selected by the Co-operative Children's Book Centre CCBC Choices 2017